MegaChallenge
Mega Challenge of the 29/10 -> 04/11
Play Wonderz Free Games every day with your daily Free Games. Rank in each Game Day Challenges and try to win as many medals as you can. These medals rank you at the Mega Challenge of the Week.
To Win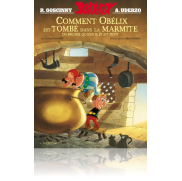 Une BD Comment Obélix est tombé dans la marmite quand il était petit
All Endowments
Your Ranking
You're not ranked on this Mega Challenge yet.
Play quickly the different games with the symbol on them in order to rank yourself in the Challenges of the Day of these games, and win medals to rank yourself in the Mega Challenge.
The Provisional Ranking(Calculated at: 29/10/2020 10:10:02)
Win medals thanks to Wonderz's daily Challenges to get your Score up at the Mega Challenge!
Nobody's ranked in the Mega Challenge yet.